Customer satisfaction is at the center of our quality policy, that's why at Latitude Corp. Quality is at every step.
Once we receive your design, we start providing you with quality through our responsiveness, communications, planning, process layout, equipment, tool and process controls, employee training, work instructions, KPIs, and metrics.  We use sophisticated measuring instruments including fully programmable CNC three-axis coordinate measuring machines (CMM).  Our quality is in step with customer requirements to yield the desired outcome.  Our robust Quality management System is compliant with ISO 9001:2015 and AS9100D:2016 and has undergone rigorous 3rd party auditing to ensure we can consistently produce what we plan to produce while striving for continuous improvement.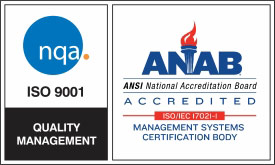 Our engineering team is ready to assist with your designs and ideas. Well versed in CAD and CAM, and using software such as SolidWorks we are able to translate and integrate solid models, STEP, IGES, DXF, and many other CAD formats. Our Engineering and CNC Programming departments work side-by-side to create a steady flow from drawing to machine thus shortening product delivery time.
Our VKS team builds quality into our processes to enhance shop floor experience. Work instructions are readily available at each workstation giving our team instant information on setups and processes to make quality parts without defects. Proper front end documentation gives production the tools to efficiently run your parts.
Our in-house tool and die shop, ensures we have the right tool or die needed to do any job, no matter how unique.  It also allows Latitude to regularly find ways to automate and/or error-proof processes. 
Latitude Corp. is a vertically integrated manufacturing company committed to providing the most comprehensive range of value-added services for our customers. From concept to delivery, we are an organization that provides a collaborative effort in reducing costs by improving manufacturability.
We provide a variety of services including welding, finishing, bending, steel metal fabrication, metal stamping and much more. Industries we serve include agriculture, automotive, EV, power sports, marine, healthcare, and energy.